Sandon Soccer Ltd
22/07/2020 - Sandon Soccer - Managing Covid-19

Self Assessment
If you or anyone in your household is suffering or have signs of Covid-19 you should not attend Sandon Soccer. You should seek medical advice and stay at home.

Payment
This can be made in the normal way of cash when you arrive, or as managers, if you wish to transfer the match fee or private hire fee this can be done on the day of your match/hire; but needs to be in the account before 4pm. I can provide bank details if required. There will be boxes with your team name/hire on them so the cash can be put before the match starts this is to minimise contact.

Wash Station
Near the gate there will be a wash station where it is requested that you sanitise your hands on arrival and when you leave. All equipment and gates will be cleaned at regular intervals during the evening.

Equipment
I have enough bibs so there is no need for these to be shared. If you or your team are required to wear bibs these will be clean and single use so we ask that you place them into the box marked 'Used bibs' so that they can be washed before they are use again.
We will be unable to provide any warm up balls. All match balls will be cleaned between matches or news ones provided.
We are also unable to lend shin pads or goalkeeper gloves.

Facilities
The changing rooms and toilets will be closed and we are unable to use these. The school has informed me that they will be reviewing this in September. The hut is also out of bounds and can only be used for Sandon Soccer staff.

Track and Trace
To meet with government regulations Sandon Soccer has to keep records of all players, visitors, referees etc that attend each night. Most teams have provided their players contact details (if you have not provided these please do so asap). This is how Sandon Soccer is going to ensure we meet these regulations:-
Leagues - team managers are required to submit their players before 3pm on the day of the game via text. Please note that we recommend that the squads are kept to a maximum of 7 players. I can then create a players database for that evenings game with the information you have provided. Therefore you will have nothing to do when you arrive. If you provide the name of a player who we do not have contact details for we will contact you to obtain this information
Private hires - if you wish to complete an attendance record before your arrival please email or text me a list of the players who will be playing and their contact number. If this is not done before your hire then each player will have to sign in and provide their contact details before they play. This could take up some of your time on the pitch. I will then keep a register and we can just tick the names off as they arrive each week.
Visitors - anyone watching or visiting the site will be asked to sign in on their arrival, although at this stage we recommend that only those players playing should attend.


Social Distancing
On your arrival you need to wait in the playground. Once the previous game/hire has finished you will be informed when you can enter the pitch area. I will be around to assist and guide you.

Please do not share water bottles or any other pieces of equipment such as shin pads etc and where possible minimise the number of people traveling together. Parking will only be allowed in the main park not the playground.

Please refrain from spitting.


01/07/2020 - Sandon Soccer completes Covid-19 Secure Risk Assessment & Action Plan.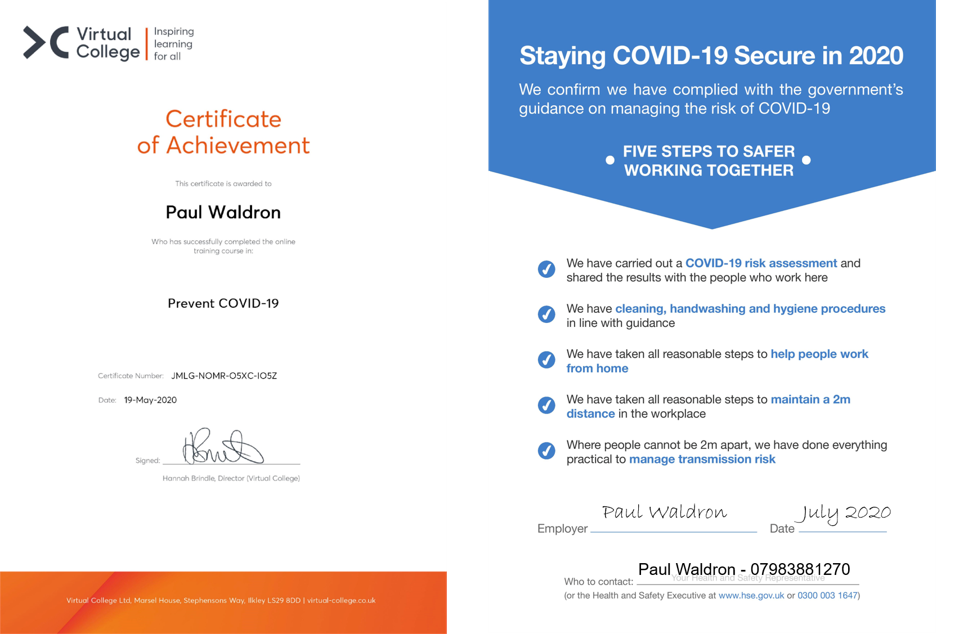 Follow the site to get the latest news and results straight to your email
Contact Us

Paul Waldren
email@sandonsoccer.com
07983881270